This paper was authored by Anders Grauers at Chalmers University of Technology together with SustainTrans member Sven Borén, and Oscar Enerbäck at RISE. It stems from the electric bus study and aims to propose a method for how to calculate total cost of ownership, for different types of electric buses, in a way which can predict how the cost varies based on route and timetable. The most significant results of this paper can be summarized as:
A new model that demonstrates how to calculate the TCO for electric buses that depends on the nine most significant input variables. The calculations result in four operating and three annual depreciation cost parameters that forms the TCO.
Testing of the method in a Swedish context from 2019 showed that the TCO for electric buses is generally in line with buses powered by biomethane and slightly higher than buses powered by HVO. However, the TCO can be both higher or lower depending on cost variations related to departures per hour, electric grid connections, the distance to the depot, and the length of the route. It is likely that future TCOs will be lower for electric buses when compared to buses powered by biomethane or HVO, mainly due to lower prices for batteries and buses and costs related to maintenance.
The authors believe the results have contributed to the research community, as there is currently a lack of theoretical TCO models based on experiences from real-life public transport tests of electric buses. Both the model and the data received from testing in a Swedish environment are considered to be useful for public transport authorities, bus operators, and other stakeholders involved in public transport planning that have intentions to move towards sustainability. The model and results from testing are adapted to conditions in Sweden and northern Europe, but the model could be adopted to other regional conditions as well.
The paper is published in the Journal Energies special issue Electric Systems for Transportation as:
Grauers A, Borén S and Enerbäck O, 2020. Total Cost of Ownership Model and Significant Cost Parameters for the Design of Electric Bus Systems. Energies 2020, Vol. 13, Page 3262 13 3262. doi: 10.3390/en13123262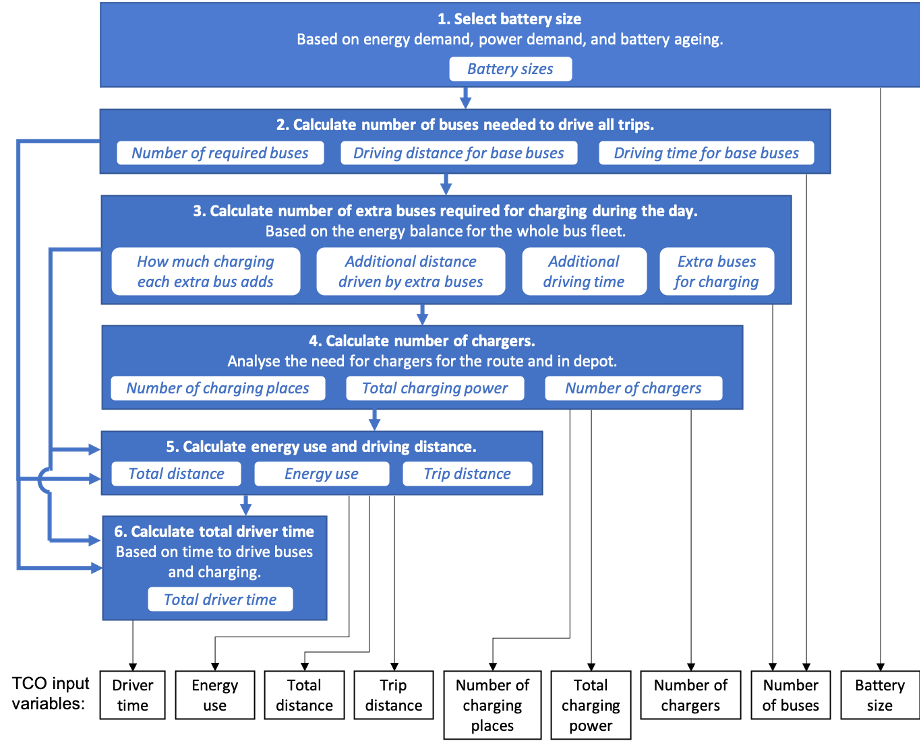 Steps 1–6 for how to calculate the nine TCO input variables, and information flow between these steps (to the left). The white boxes show some of the key variables calculated in different steps and the output variables.

The cost per km for end-stop-charged and biogas (CBG) buses with cost parameters estimated for high production volumes. (Note that the y-axis starts at 18 SEK/km, so the driver cost is more than half the TCO).