BTH has begun a research collaboration with Färgfabriken, a cultural institution with an emphasis on art, architecture and urban planning. SustainTrans researcher Giles Thomson is investigating, among other things, improvements of methods for model‐driven development and decision‐making for sustainable urban planning, including visualization and exploration of alternative future visions of sustainable cities and districts. This research material will inform exhibition content at Färgfabriken, there are also plans to explore possible future scenarios for the redevelopment of the Lövholmen neighbourhood, which is the former industrial area surrounding Färgfabriken.
Sweden is already a world leader in sustainable urban development with initiatives such as Hammarby Sjöstad and Royal Stockholm Seaport, could the urban regeneration of Lövholmen continue this trend in urban sustainability leadership? If so, what would the next benchmark in advancing what it means to be a sustainable city in the 21st century look like? Questions such as these will be explored through this collaboration, and Färgfabriken will help extend the reach and impact of research outputs byshowcasing material on urban sustainability transitions where it is relevant to its public exhibition themes.
For example Färgfabriken's upcoming (2021) Symbiosis exhibition asks 'How can the planet be viable for future generations?' This question will include exploration of what it means to be a sustainable city. The Symbiosis exhibition statement further explains their transdisciplinary approach: 'We venture into new paths of thinking in order to find ways to understand and deal with the challenges our world is facing. Extensive research exist that has defined challenges and show different alternative solutions, but in order for real system changes to happen, we actually need to see relationships where one usually sees paradoxes and contradictions. There are many systems that are interdependent, for example in urban planning and community building in relation to the rapid urbanisation of the world today.'
We are proud to contribute to this conversation…
To find more about the symbiosis exhibition click here https://fargfabriken.se/en/projects/symbiosis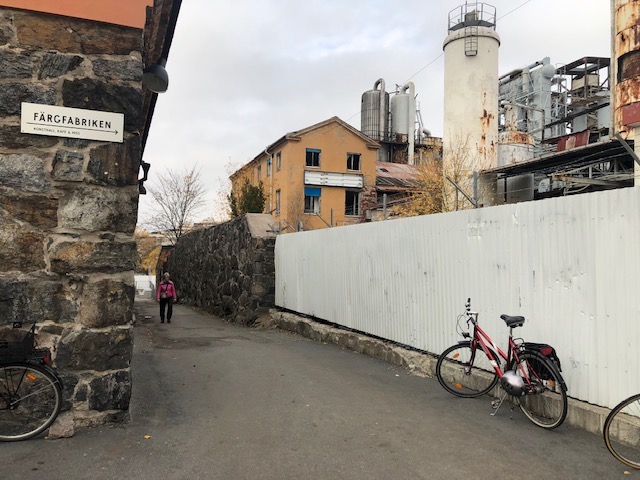 Picture from Färgfabriken by Giles Thomson.