Visual and Interactive Computing Laboratory
The visual and interactive computing laboratory (ViaLab) comprises of three components: A virtual reality laboratory, perception laboratory, and the radio communications laboratory. Examples of activities pursued under the umbrella of ViaLab are shown below followed by an inventory of research equipment and software.
Setup of a participant with head-mounted display and biosensors in standing and seated viewing for a subjective test campaign about 360o video quality assessment: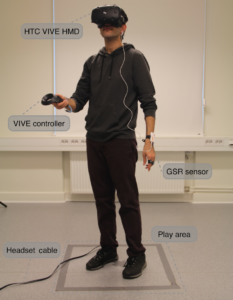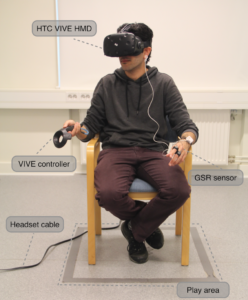 Testbed equipment used for studies of temporal data delivery issues in a TPCAST wireless virtual reality set-up: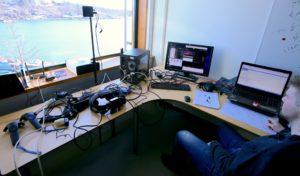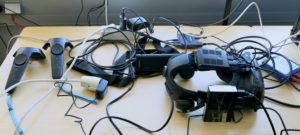 An experimental study on the video freeze assessment of TPCAST wireless virtual reality: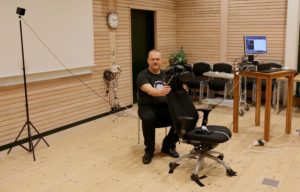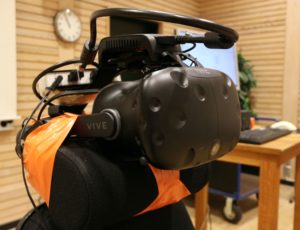 Rating test on 360o video quality and quality of experience (QoE) of remote rendering using the TPCAST wireless virtual reality set-up. Rendering is performed remotely at Campus Karlshamn and the test stimuli are viewed on Campus Karlskrona.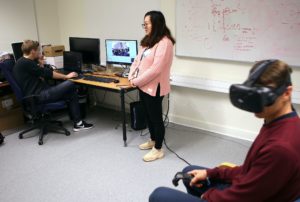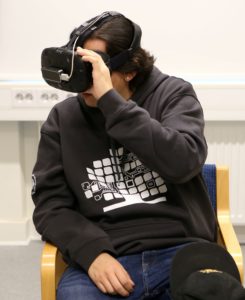 Subjective experiments conducted to quantify the relationship between QoE and single, isolated stall durations in interactive remote virtual reality when stalls either freeze the frame in place, or when frames are reprojected by the VR driver.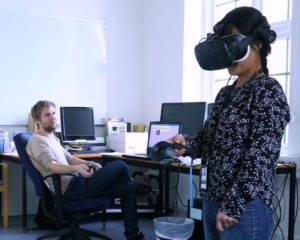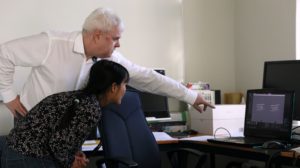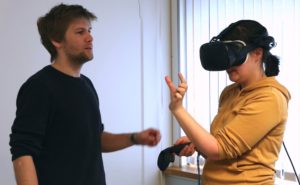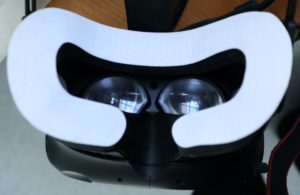 Demo showing VR game experiment evaluating player performance and experience while using different interactions techniques, i.e. HTC Vive Controller and Leap Motion Sensor: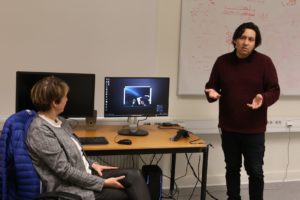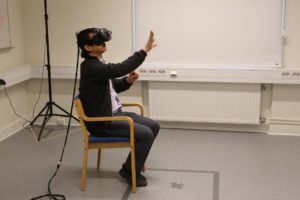 Experiment setup of screen-based eye-tracking (left). AR application demo in the lab (right).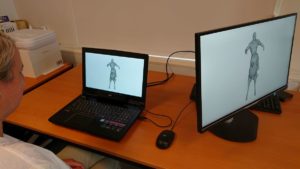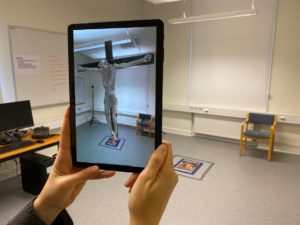 In our research laboratory we have the following research equipment and software:
Eye trackers:
Tobii T60 Eye Tracker
Tobii EyeX Eye Tracker
Tobii Pro X2-30 Eye Tracker
Tobii Pro Studio Software
VR headsets with integrated eye tracker:
Tobii Pro VR Integration – based on HTC Vive
FOVE Eye Tracking Virtual Reality Headset
HTC VIVE Pro Eye
VR headsets:
HTC VIVE
Samsung Gear VR
Oculus Rift DK2
VR headsets accessories:
HTC VIVE wireless adapter for HTC VIVE
Wearable sensors:
EMOTIV Epoc+ EEG headset
Shimmer3 GSR+, ECG, and EXG unit sensors
iMotions biometric research software platform
Other sensor devices:
Leap Motion
Nintendo Wii Remotes
Microsoft Kinect
Single-board computers and microcontroller kits:
Arduino Boards
Raspberry Pi Boards
NVIDIA Jetson TK1 developer kit
Wandboard Solo i.MX6
Wandboard Quad i.MX6
Radio test and measurement equipment for immersive mobile multimedia applications (funded by Sparbanksstiftelsen Kronan under contract 522-05):
R&S SMU 200A Vector Signal Generator with SW options: Fading Simulator, 3GPP FDD, 3GPP FDD enhanced MS/BS tests, IEEE 802.16, IEEE 802.11 (a/b/g)
R&S FSQ26 High-end Spectrum Analyzer with SW options: 3GPP-FDD BTS transmitter test, 3GPP HSDPA basestation test, IEEE 802.16 TX measurements, IEEE 802.11 (a,b,g,j) TX tests
R&S CMU 200 Universal Radio Communication Tester with SW options: HSUPA, HSDPA, WCDMA
R&S CMW-Z10 Universal RF shield box
R&S TSMW High Performance Scanner with SW options: GSM, WCDMA, LTE, MIMO
R&S ROMES4 Drive Test Software
Agilent E5071C ENA Series Network Analyzer
Agilent E5071C-4K5 4 port test setCalibration Kit
Agilent 34410A 6.5 digit Digital Multimeter
Agilent 33220A 20MHz Function/Arbitrary Waveform Generator
Agilent MSO7034B 350 MHz 4+16 channels Oscilloscope
Perceptual video quality measurement software:
ITUtester
Perceptual Video Quality Assessment (PVQA) tool